About J&F Japanese Language
 Many people from all over the world come to Japan to learn Japanese. Japanese subcultures, such as anime, pop music and fashion, are popular all over the world, stimulating people`s interest to learn Japanese. J&F is an agency that provides Japanese language school information. We also introduce language schools to those who would like to study abroad in Japan. We promise to do our best to introduce the best Japanese school for you. In addition, we would like to share Japanese culture and help create bonds with Japanese people through learning. From the bottom of our heart, we hope that through Japanese language learning, we can create a bridge from Japan to the rest of the world.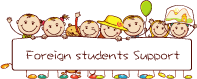 Choosing the best Japanese Language School
 There are approximately 500 Japanese language schools in Japan. Because there are so many different schools and courses that each carry different characteristics, the search for the best school is difficult and time consuming. Therefore, at J&F, we will ask for your requirements and preferences toward your ideal language school, and introduce the best options for you. We can also assist those who carry either working-holiday or tourist visas to find Japanese language schools.
J&F Mission
There are few institutes and agencies that can provide exchange students with information about Japanese language schools and accommodations. If you do not belong to a university, vocational school, or language school, this information is difficult to look up and obtain by yourself. That's why we are here; our services cover all your needs to support your life in Japan.