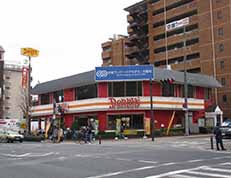 | | |
| --- | --- |
| | Excellent environment location in front of the park |
| | Small group guidance |
| | Career support by eperienced instructors |
| | Living support by Chinese and English resident staffs |

Address:2-2-19 nagaihigashi sumiyoshiku osaka-shi, Osaka
Homepage:http://www.kla.ac/en/osaka/
Access:Osaka municipality Subway Midosuji line Nagai st. 4 min on foot
Number of students:50
Number of teacher:Full time instructors 2,Part time instructors 7
Nationality and ratio of students:China 51% Vietnam, Indonesia and others 49%
School activities:Speech and composition contest in the whole group school. One-day bus trip or vist to the museum (once in each semesters) Seasonal cultural experiences and exchange meeting with Japanese people.
Curriculum:Long term course / Short term coursee
Surroundings: ​We are located in front of a representative general park and we have a very good environment.
Scholarship:Scholarship from Japanese government (MEXT) , our school and others.

Japanese for everyone who needs it.

Osaka is the center of western Japan, and a very vibrant city. Nagai, where the Osaka school is located, is a short distance from the center of Osaka. We are located in front of a representative general park with a total area of 65.7 ha., and we have a very good environment. Just a 4-minute walk from the nearest station "Nagai" there is a thriving bicycle culture as well. If you are interested in Japanese food culture or love to exercise, this environment has much to recommend. Because it is a big city, there are many universities and professional schools. We will provide individual guidance both for your life and for your academic career, to help you to make your dreams come true.

[ Long term course ]
Enrollment: 4 times a year (January, April, July and October)
Duration: 1 year to 2 years
Tuition: first year 853,200 JPY (Application fee, Entrance fee, Tuition, Facility fee, Activity fee, Text and tax are included)
Qualification: higher than high school
Required documents: Please ask us the detail

[ Short term course ]
Enrollment: asking
Duration: from 2 weeks to 3 months
Tuition: Entrance fee 10,800 JPY, tuition 2,700 JPY per day
  *extra cost option: text and activity
Qualification: higher than high school, Visa exemption countries, who have a visa for staying in Japan
Required documents: Application form and passport copy


If you enter a Japanese school through J&F Plaza, we will give you J&F Plaza Japanese Learning Support Fund!
| | |
| --- | --- |
| Short term course | \3,000yen |
| Long term course | \10,000yen |

*You will receive this support fund after you have paid the fee to your school and attend your first class.
*This fund is not available for weekly courses and private lessons.



WIFI
Library

Study materials
Study room


| | |
| --- | --- |
| China | Indonesia and others |
| 51 % | 49 % |
(2018年現在)

There is an old proverb which says "Learning a new language is like gaining a new soul". I'm sure you are just about to get a new one by studying Japanese. I myself love learning new languages for this very reason. During your stay in Japan, I hope you will not only study Japanese language itself but also learn to use it to build a relationship with people and the world around you. We, members of the KLA Osaka School, would like to help you with this path to make your new soul grow and become more colourful.